With all of the different flower companies online and around your local area, it can be hard to find the right one to shop at-especially when it comes to giving your sweetheart flowers for Valentines Day....
Recently, MSN did some shopping research for you, and found an online flower company that offers honest pricing policies and
greater pricing transparency. 1800Flowers.com was singled out amongst top flower sellers such as FTD and ProFlowers.
In today's economy-as well as many experiencing financial hardship, it is necessary for a company to offer honest, and realistic prices to the public. While Valentines Day is special for many, there will be others watching their budget and cutting back on the sweets and treats this year.
For those who are lucky to be employed, but yet can still pay some money towards flowers for their honey, the price of $34.99 for roses at 1800Flowers beat out prices from FTD and ProFlowers that went as high as $38.49.
And 1800Flowers is offering an extra special incentive for those who love the Twilight Series..... For die-hard fans, they can be the receiver of the Valentines Day special of Twilight Valentines Day Flowers... This will definitely make some very happy--and ready for a romance flick for the evening...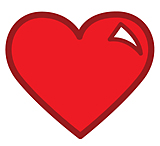 Just remember to watch your money though when spending--love isn't always about the money--its about the thought that counts...